I don't have a glamorous job, but I do love it! I work in one of the most beautiful places on Earth. It's a seaside resort with a four diamond rating. (That's not the best part.) The best part is my employers treat me like family. I've only worked there five years now, but when you stick with somebody through three different fires, one of them being arson, it tends to create a very tight bond amongst those that suffered through the tragedy together.
My next favorite thing about my job is in the summer I sometimes wear my bikini under my uniform and go jump in the ocean after work - or during my lunch break on super hot days! It's bliss!
Of course, it's been months since I've been able to do that in this frigid New England climate! However, today I got to experience my third favorite aspect of my job as housekeeping manager. I got to spend a lot of somebody else's money! I actually spent close to an entire month's salary in a matter of minutes!
We just acquired a new property on the peninsula. It's a mansion that was built in 1896 with a large attachment that was added 20 years ago. It has 13 bedrooms and several living rooms and porches, and sunrooms and other varieties of living spaces. It's amazing! The house is absolutely stunning and takes my breath away. There are four different levels with four different stairwells and six bathrooms. The master bedroom is bigger than my living room, dining room and kitchen combined - 10,000 square feet for those of you that are better with numbers. It seems to ramble on forever (sorta like my description here!) To think that just one family lived there blows my mind.
The owner of the resort bought it "to entertain his daughter" who is a little younger than me. She is furnishing it and renting it out for a mere $8,000 a week! Dead serious. However, guess who got to purchase all the bedding for the property? Me! Yay Me! I'm still flying high from my shopping spree! Most of the rooms are either yellow or blue, so I tried to stick with those colors. Here are some photos of the things that I picked out.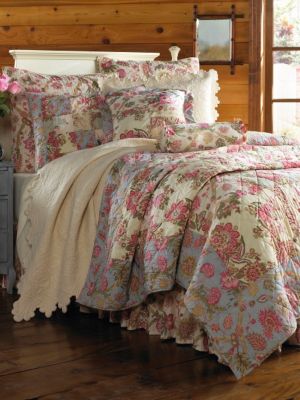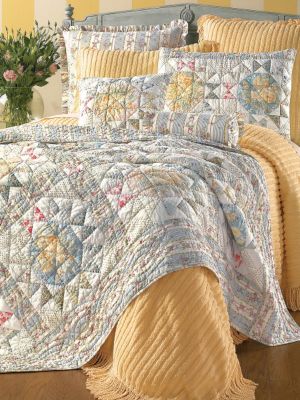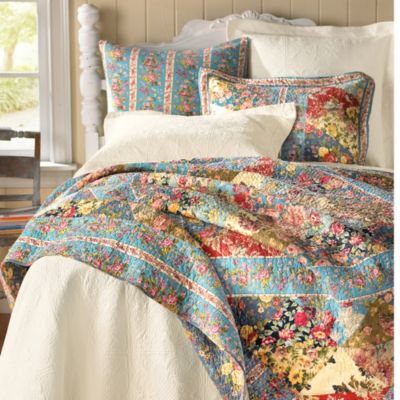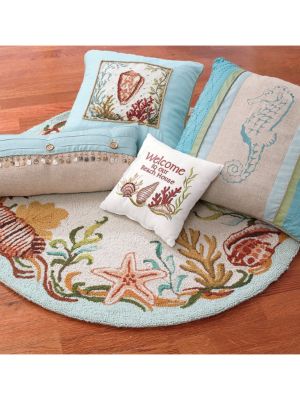 Which one is your favorite?